Our MFA solution
LinOTP for the protection of digital identities
In the age of multiple digital selfs, fake news and alternative facts, ensuring that identities stay secure becomes a key factor.
LinOTP - smart & reliable
LinOTP is a flexible, innovative and versatile platform for strong MFA authentication in enterprise environments, which leverages the possibilities of open OTP (one-time-password) standards. Developed and maintained by KeyIdentity, LinOTP scales to meet the needs of small, custom installations, medium-sized businesses and also large enterprise environments.
If your user base grows from a few to several thousand, LinOTP scales with you and adapts to the changes in your IT landscape.
Due to its modular architecture, LinOTP is manufacturer-independent and supports a wide variety of
authentication protocols, token types and user directories. LinOTP supports multi-client capable setups, scales very easily, is user-friendly and can be rolled out quickly and easily in your environment. With LinOTP our customers achieve high security standards without great effort.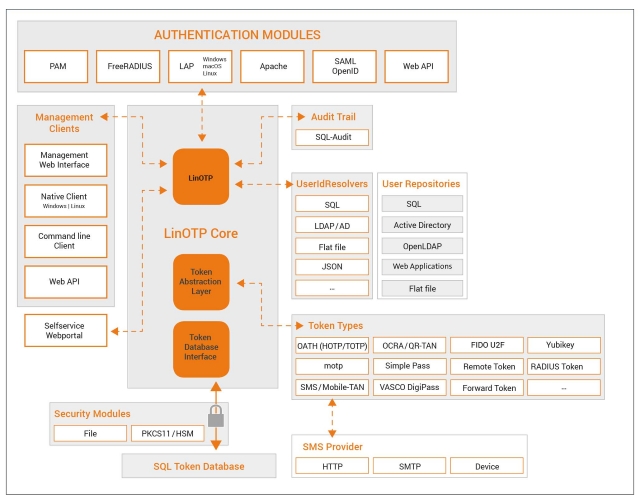 LinOTP Server is AGPLv3-licensed, the native GUIs and command line tools are GPLv2.
The architecture of LinOTP is also designed to be modular and open. Thanks to this modular architecture, LinOTP does not lock you into one specific authentication protocol or user directory.
Easy and comprehensive management
LinOTP contains administrative frontends for managing your tokens and their respective users. The integrated web interfaces allow for comprehensive and easy administration of LinOTP by using the API for management, self service and authentication in the backend.
In addition, LinOTP also provides you with command line tools for various operating systems, making scripted actions or integrations into deployment frameworks easy to achieve.
With the self service interface you can enable your users to manage themselves and relieve the helpdesk. The self service application and the associated user permissions can be precisely controlled via the LinOTP guidelines.
The automatic assignment of tokens to users and the automatic rollout of tokens are just two of the many LinOTP features, which make token management as smooth and easy as possible.